Site Loctudy - Saint Tudy

Site Loctudy - Welcome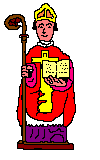 I am Saint Tudy !

Saint Tudy

Saint Tudy (n01) is one of the large Armorican monks of Vth or VIth century. Saint Tudy is associated, with reserves to be commented on, with the famous names of Saint Corentin, bishop of Quimper, of Saint Maudez and Saint Guénolé, abbot of Landévennec.

The various graphies of the name of Saint Tudy are (without being exhaustive): Tudy, Tudius [b_merd01], Tudinus (n06), Tugdin [b_albe02].

"Saint Tudy is a disciple of Saint Maudez. Tudi is a hypocoristic form (n02) of Tugdual. The tradition locates into 494 the arrival of the monk and the installation of the hermitage on an island of river of Pont l'Abbé [current]. Other accounts describe Tudy like companion of Saint Corentin, bishop of Cornwall in 453. Other sources place this episode under the reign of frank king Childebert (511-558)." [b_riou01]
Let us consider Loctudy and the Ile Tudy (n03) in Finistère (country bigouden) close to Quimper. Loctudy (n04) has for éponyme (n05) Saint Tudy. Saint Tudy is established initially with Ile Tudy, before even as it built its monastery on the close coast with Loctudy [b_peyr02]. One even says that the primitive vault of the Island Tudy would have existed on a rock, now submerged, which is in the medium of the master key between Ile Tudy and Loctudy [b_peyr02]. Another source indicates that the monastery of Loctudy would have been built only after there died of Saint Tudy and that a transfer of the worship of the saint would have taken place vault towards the monastery [b_xxxx02]. The worship of Saint Tudy in Ile Tudy appears thus former but contemporary of that of Loctudy. The construction of one vault in the Ile Tudy would thus have preceded construction by a more significant monastery with Loctudy.

References to Saint Tudy are in the "Lives" (Vitae) of Saint Corentin (Vita Chorentini) and of Saint Maudez [b_xxxx03]. The author of the "Life of Saint Corentin" holds to show that Saint Tudy recognized the jurisdiction of the bishop of Quimper [Saint Corentin] [b_dobl02]. Indeed, in XIIIe century, the abbey of Loctudy came to be declared collegial and absorptive by the chapter of the cathedral [of Quimper] [b_dobl02]. Consequently, the author represents Tudy and Guénolé, the other large head of monastery, as evinced, so that Corentin can be a bishop [b_dobl02]. The consequence is that the date of life of Saint Tudy is a priori not the same that Saint Corentin and Saint Guénolé.

Bibliography
See page bibliography.

Notes
(n01) Tudy or Tudi
(n02) which expresses a tender or friendly affection.
(n03) parish of Combrit.
(n04) Loch-Tudy.
(n05) the name which gives its name to .
(n06) Vita Corentini



Site Loctudy - Welcome

Site Loctudy - © Copyright 2011 – All rights reserved.